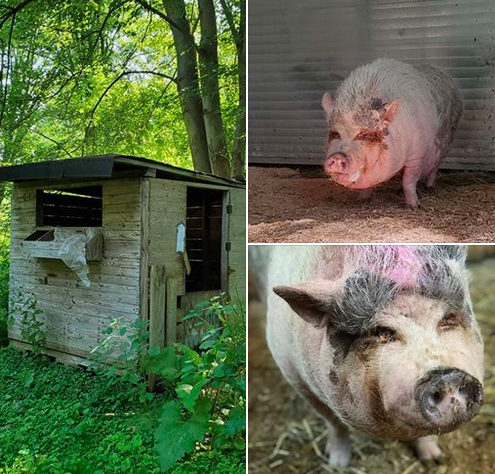 ?? Meet Lyla, a recent $100 micro-grant recipient. Isn't she beautiful? Read her story and learn more about her rescue by Happy Trails Farm Animal Sanctuary  in Ohio below.
"Is there ever a weather extreme not accompanied by a rescue? Summit County humane officers called with a request, they needed help with a pig. Now you might not get these calls but we do…often. We loaded up were able to travel the half hour drive, load up one very vocal piggie and make the drive back in record time.
What came out of it? A very sweet and compliant little lady potbelly dubbed 'Lyla' who could not have been more grateful for her rescue. She has looong hooves, will need vaccinations, de-worming and veterinary attention for her eyes. This pig was left to die in a shed, boarded in with plywood and nails behind a house, at the end of a gravel (mud) road. She is now with us and will be safe.
If you are able, please donate toward her care. And if you want to give her a loving home, all you have to do is say the word by submitting an application today."
Thank you Happy Trails for the work you do and for giving Lyla a safe home!