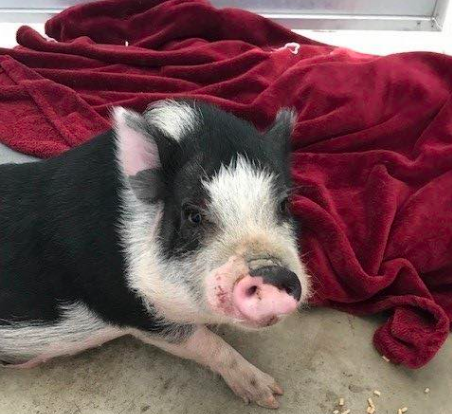 My Pig Filled Life stepped in to help this adorable pig named Percy who had been hit by a car in Fort Worth and ended up in a shelter. We donated a $100 micro-grant to help with their vet expenses. Unfortunately Percy didn't make it. They wrote: "Both his pelvis and hips were shattered. Vets agreed best option was to let him go peacefully. For just a minute he knew true love and compassion."
Although we're so sad he didn't make it, we're very grateful for rescues like My Pig Filled Life who offer compassion to these gentle, intelligent beings.
Here's more about My Pig Filled Life: it's a 501c3 status operating as a non profit organization specifically dedicated promoting and supporting the rescue & care of mini pigs by providing the compassion, commitment and companionship they deserve. This started like many of you with a mini pig and big heart. After a few months of educating myself, I saw a growing need for rescue facilities in East Texas. So me and my mini Pearl started My Pig Filled Life Mini Pig Rescue to do what we could to make a difference in the lives of mini pigs. To date we are family to 154 pigs and have rescued over 203 since starting in 2015.