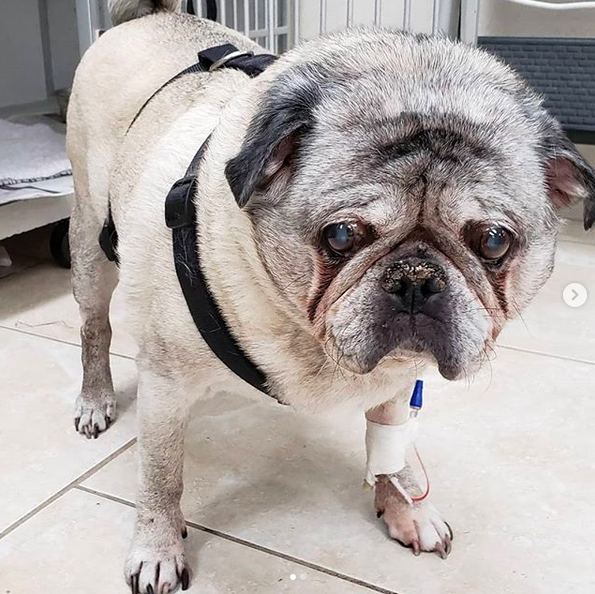 Meet sweet senior Hugo. Here's his story per Pug Rescue Austin's Instagram:
"We were contacted by the Emergency Animal Hospital of Northwest Austin about this senior gentleman, Hugo, who was desperately in need of our help. He was diagnosed with diabetes and the secondary dangerous complication known as DKA or diabetic ketoacidosis. Untreated Hugo will not survive. His owner who is also very ill could not afford his treatment and Hugo was in danger of being euthanized. We immediately stepped in to save him and we are asking for your help. Hugo will need to be hospitalized and receive around the clock care for the next three to four days on IV fluids, insulin, medications and special diet to try to get his high blood sugar levels under control and reduce the toxins in his body. He will need repeated bloodwork and blood sugar levels checked. We are committed to doing everything we can to make sure Hugo survives."
Update:
"Hugo has been making positive strides. He's not out of the woods by any means but his overall condition has improved. He's been sitting up and even came out of his cage for a visit with our medical director. He is still at the Emergency Animal Hospital of Northwest Austin where they are monitoring him closely on his fluids and adjusting his insulin. We are hoping he will improve enough to be released to a medical foster next week. Thank you for all your prayers and donations for this loveable big teddy bear."
We, too, are in love with Hugo and he's the latest recipient of a $150 micro-grant. Learn more about Pug Rescue Austin's work here, consider adopting one of their available pugs (I want ALL of them!), or make a contribution to Hugo's care here. Thank you for making a difference!